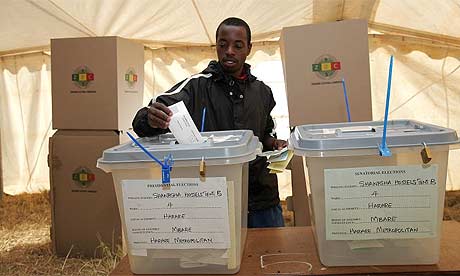 The results of Zimbabwe's disputed presidential election could finally be released tomorrow, the country's electoral commission has announced.
The news comes after a month-long standoff between the ruling party and opposition supporters which has led to widespread fears of violence.
Accusations that Zimbabwe's president, Robert Mugabe, was seeking to rig the outcome of the election and maintain his grip on power provoked international concern.
But today, following the completion of a partial recount of the parliamentary election, election officials said the full results of the presidential vote would now be published.
"I'm getting the information that they are now collating the results, which will be available tomorrow," said Utoile Silaigwana, a spokesman for the Zimbabwe electoral commission.
The results would still need to be verified by the candidates, which could take a further week if disputed, Silaigwana told Reuters.
Many Zimbabweans had hoped that the country's elections, held on March 29, would go some way in easing the nation's spiralling economic decline. Instead however, the disputed results led to further insecurity, with the threat of bloodshed between rival parties becoming increasingly likely.
Political analysts believe a win for Mugabe, whose ruling party lost control of parliament in the election, would deepen the financial collapse of the country. But western countries are likely to offer aid and investment if victory is handed to Morgan Tsvangirai's Movement for Democratic Change (MDC).
Earlier, Tsvangirai, who says he won an outright majority in the first round of voting, urged 84-year-old Mugabe to step down.
"Old man, go and have an honourable exit," Tsvangirai, 56, told a news conference in neighbouring South Africa.
Mugabe's Zanu-PF lost control of parliament for the first time since he took office in 1980, weakening the former liberation hero's grip on the country.
Tsvangirai said his supporters had united with a breakaway faction of the MDC, led by Arthur Mutambara, and would work together in parliament.